YUMI UEFI utilizes GRUB2 for both BIOS and UEFI booting. It is important to note that the UEFI version is not backwards compatible with YUMI legacy. In addition, your drive must be Fat32 formatted to support booting in UEFI mode. This bootable USB maker software does include the fat32format utility to help you format drives larger than 32GB as Fat32.

YUMI UEFI (Bootable USB Maker)
YUMI UEFI can be used to create multiboot USB drives that are compatible with systems running UEFI firmware. This is important because UEFI-based systems require a different type of boot process and partitioning scheme than legacy BIOS systems. YUMI UEFI would ensure that the USB drive you create is configured to boot on UEFI-based computers.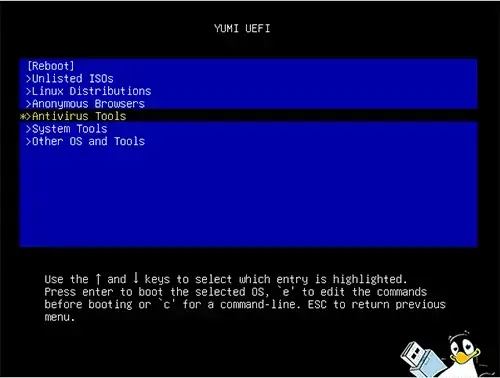 Drag and Drop ISO Support?
The "Try Unlisted ISOs" option supports the ability to drag and drop ISO files to try to boot into the /multiboot/ISOS folder. They will be autodetected and their entries automatically appended to the Boot Menu.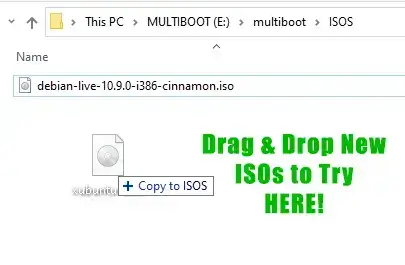 BACKUP DATA: Backup your content from ALL partitions on your select device before using the "Wipe and fat32 format" option. The entire disk will be wiped clean!
Diskpart is used to wipe the select drive clean and then create a single partition using the same drive letter. Fat32format is used to format the large partition as fat32.
SECURE BOOTING: If it is enabled, disable secure boot from your computers BIOS/UEFI system firmware menu, before booting.

YUMI UEFI Download and Changelog:
03 Jul 2022 YUMI-UEFI-0.0.4.6.exe: Detect if running natively or from WINE.
YUMI UEFI SHA-256: f2f5d2b4f86fd281b2b9a730d883c7bb5dbc7aef98bb46db8956ffc0ff33c013
WARNING: I recommend not using this variant! This tool is archived and not being updated. It doesn't support ISO files larger than 4GB, and may have bugs that could prevent it from working as anticipated. Please use YUMI exFAT , instead.
YUMI UEFI USB Bootable ISO files
Here are some example Bootable Live Linux Distros, Portable Operating Systems, Windows Installers, and tools that you can install and boot from USB.
Popular Linux Distributions
Debian Live
Fedora
Linux Mint (with persistence)
OpenSUSE
Puppy Linux
Ubuntu (with persistence)
Other Distros Alphabetical
Android-x86
Antergos
AntiX
Archlinux
Bodhi
Bunsenlabs/Crunchbang
CAELinux (Computer Aided Engineering)
CentOS Live
ChaletOS
Clear Linux
Damn Small Linux (DSL)
Fuduntu
gpxe (Net Bootable Distros)
KNOPPIX
KXStudio
Mandriva
Netrunner
OSGeo Live
PCLinuxOS
Peppermint
Peach OSI Linux
Pear Linux
Pinguy OS
Porteus
PureOS
SalineOS
Scientific Linux CERN
Semplice Linux
SLAX (Tiny Slackware Based Distro)
Slitaz (Another Tiny Distro)
Sparky Linux
SolydX
Sugar on a Stick
System Rescue CD
Tails (Anonymous Browsing)
Liberte (Anonymous Browsing)
Terralinux
TinyCore (A Tiny Linux Distribution)
Ultimate Edition 3
XBMCbuntu
Zorin OS Core
NetBook Distributions
Bootable Virtual Machines
ProxMox (Virtual Machine Environment) VME
Antivirus Tools
Acronis Antimalware CD
AOSS (Malware Scanner) system\stage1
AVG Rescue CD (Antivirus Scanner)
AVIRA AntiVir Rescue CD (Virus Scanner)
Bitdefender Rescue Disk (Antivirus Scanner)
Comodo Rescue Disk (Antivirus Scanner)
Dr.Web Live CD ; does install to root
F-Secure Rescue CD
GDATA Rescue CD
Kaspersky Rescue Disk (Antivirus Scanner)
Panda SafeCD
Windows Defender Offline
USB System Tools
Acronis True Image
BackBox (Penetration Testing)
BackTrack5 (Penetration Testing)
Boot Repair Disk
Clonezilla (Backup + Clone Tool) – with Persistence
DBAN (Hard Drive Nuker)
Deft (Forensics)
DRBL (Diskless Remote Boot in Linux)
EASEUS Disk Copy (Disk Cloning Tool)
FreeDOS (Balder img)
GParted (Partition Tools)
GRML (system rescue)
HDT (Hardware Detection Tool)
Kali (Penetration Testing) – with Persistence
Memtest86+ (Memory Testing Tool)
Matriux (Penetration Testing)
Offline NT Password & Registry Editor
Ophcrack (Password Finder)
Parted Magic (Partition Tools)
PING (Partimg Is Not Ghost)
Partition Wizard (Partition Tools)
Rescatux
Redo Backup And Recovery (Recovery Tools)
Rip Linux (Recovery Distro)
Trinity Rescue Kit
Ultimate Boot CD (Diagnostics Tools)
Web Converger (Web Kiosk)
WifiSlax
Bootable USB Windows 11, 10, 8, 7, XP and Other OS/Tools
Linux Live Tools for OCZ
Linux CNC
Hiren's Boot CD
Falcon 4 Boot CD
Hiren's Boot PE
Sergei strelec WinPE
Other WinPE
Kon-Boot Floppy Image
Windows 11, 10, 8, 7, Installer. (YUMI can be used in place of Microsoft's "Create Media Tool" for Windows 11, 10)
Windows XP Installer
Windows To Go
Boot and Run Windows 11 from VHD on USB
The option to Install, boot, and run Windows from VHDx on USB option is available via the exFAT variant. Enabling you to experiment with running Windows 11 or 10 portably.
Phoenix LiteOS – Put Windows 10 or 11 on USB
Unlisted USB Bootable ISOs
Try an Unlisted ISO (SYSLINUX)
(GRUB)
(GRUB Run from RAM)