YUMI (Your USB Multiboot Installer) is a Multiboot USB Boot Maker or media creation tool that can be used to make a Multisystem flash drive. This tool can quickly create a Multi bootable USB flash drive containing several different ISO files. Use it to boot from USB your favorite Live Linux portable Operating Systems, Linux and Windows Installers, antivirus utilities, disc cloning, backup, penetration testing, diagnostic tools, and much more. Making it easy for anyone to create their own customized multi purpose Bootable USB.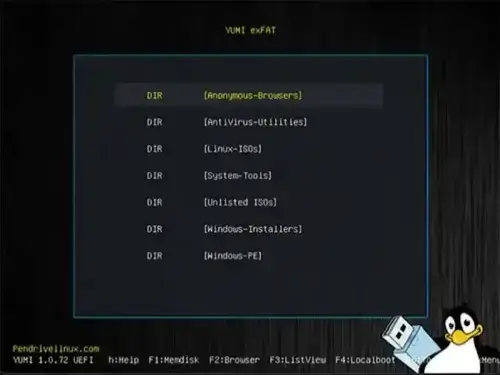 What is YUMI Multiboot?
YUMI is a media creation tool has been considered by many to be the Best Bootable USB Creator. It replaces our old Multiboot ISOS tool and is also the successor to the Universal USB Installer (UUI). Tools that were among the first ever made for the purpose of creating a bootable flash drive. In general and for the most part, bootable ISO files are stored within the YUMI folder. This makes for a nicely organized portable Multiboot drive that can still be used for traditional storage purposes.
Though originally intended to be used to boot from USB "LIVE Linux" Operating Systems and tools, using it to install Linux from a flash drive to a hard drive should also work fine with most distributions. If you do happen to find a distro where the installer does not work, please let me know. You can also use the software to create Bootable Windows Installers, enabling you to easily Install Windows 10 from USB.
Multiboot Bootable USB Flash Drive Creation
This is a Multiboot tool can be used to store and run more than one distribution from your thumb drive. Enabling you to Boot Multiple ISO files from the same device. Distributions can also easily be uninstalled or removed with the tool!
Q: You might be asking, How can I boot from USB with exFAT?
A: The YUMI exFAT variant is recommended. This media creation tool can be used to automatically create an exFAT bootable USB. It supports the exFAT format, 4GB+ ISO files, up to 40GB persistence storage, along with the ability to BIOS and UEFI USB boot.
Supports both BIOS and UEFI USB Boot: YUMI allows you to keep using an exFAT format on your USB drive and store files larger than 4GB. Both modern UEFI and Legacy BIOS boot modes are supported. You can also optionally drag and drop bootable ISO files into folders onto your flash drive to be automatically detected and added to the boot menu at startup.
The exFAT variant utilizes a bootloader based on Ventoy2Disk along with a custom theme and configuration enabling you to use advanced Ventoy boot methods with YUMI's helpful front end. Making it easy to discover and learn more about new distributions to download and try. Create, and manage for example; Debian and Ubuntu based distributions with persistent images, or make multiple Windows Media Installers. You can even use this software for fully installing Windows onto USB in which case each distribution is stored and booted from separate VHDx images.
It is important to note that this variant is also backwards compatible with Ventoy. In fact, if you'd like, instead of using YUMI2USB you can copy YUMI-exFAT-1.0.2.4.exe to the same location as your Ventoy2Disk.exe and the multiboot USB boot tool will autodetect and use Ventoy instead for performing installation/updates.
How the YUMI app works
Once the drive has been prepared, you can use the front end Installer to learn more about and download distributions and tools to put on a select drive. The front end will create an organized folder structure and copy each ISO to the drive for you (handy if you want the media creation tool to keep track of your installations for removal). It can also create persistent storage files for you along with related .json entries. Each Arch, Fedora, Debian or Ubuntu based distribution can have its own persistent storage.
YUMI Features:
Official Website links are provided to help you learn more about each USB bootable distribution.
Download links make it easy to find new ISO files to try on your bootable USB.
Up to 40GB persistence file creation for Arch, Fedora, Ubuntu and Debian based distributions such as KALI Linux.
Easily add or remove installed ISO distributions.
Automatic drive preparation using a Fat32 boot partition and exFAT partition for storage.
Optional ability to "Drag and Drop ISO files" onto USB.
100% Free and Open Source (version specific source code is provided upon release).
Bootable exFAT Flash Drive Setup and USB Boot Screen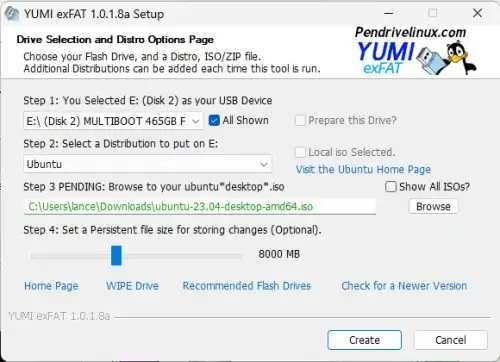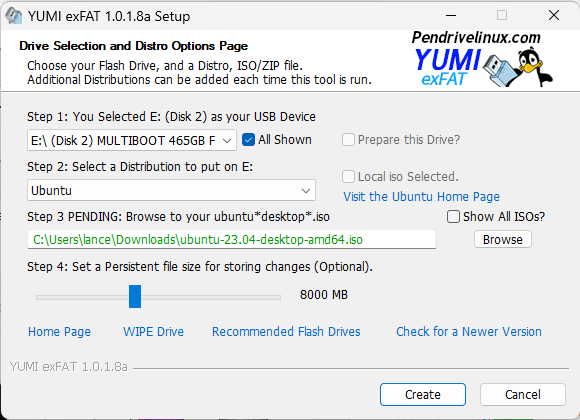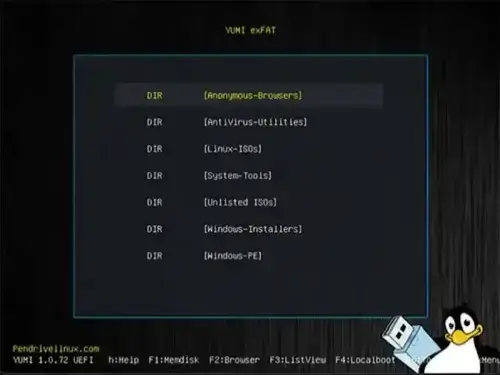 SIDE NOTE: You can also create your own storage folders within the YUMI folder on the flash drive and then just drag and drop your ISO, IMG, WIM, VHD(x), VDI.vtoy, and EFI files into those folders. During startup, the system will add entries for discovered items. Stored files can be larger than 4GB.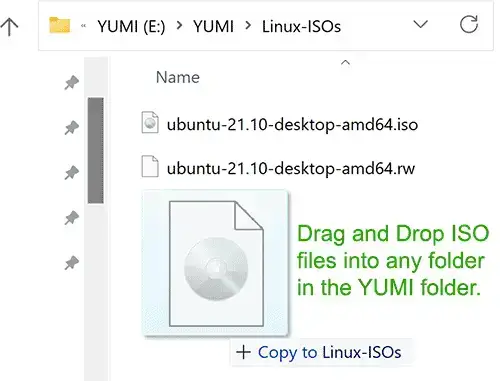 YUMI Download and Changelog
October 25, 2023 YUMI-exFAT-1.0.2.4.exe: The tool now iterates through each drive letter and then accumulates and combines all volumes/partitions that are on the same physical disk.
Both fixed and removable disks are now displayed by default.
SHA-256: e4ae7a9f7f00a1560d5184a1101d7536b66ec52f37a7a7e2e6473b6d14168141
BACKUP DATA: You must Backup any data you wish to keep before using the "Prepare Device" option. While preparing the drive, all existing partitions/volumes on the selected Disk, even if hidden, will be wiped clean.
Essentials to create a multi system bootable USB drive
The Installer will format your select USB drive with one exFAT and one Fat32 partition, but be aware that all existing partitions on the select disk will be deleted. You'll want to ensure that you have made a backup of any data you want to keep before using YUMI software on any drive.
Recommended: You will have the best experience when using a fast SSD flash drive. Here is a list of suggested Best Fast Flash Drives.
8GB+ flash drive (128GB – 1TB size works well).

Computer that can boot from USB.

Windows 11, 10, 8, 7 Operating Environment.
YUMI (to create a Multiboot Bootable USB).

Your favorite Windows and Linux ISO Files.
Please inform me of unlisted "FREE" Live Linux distributions or version revisions, and I will attempt to update the USB Multiboot Tool to support them. Additionally, developers who wish to have their Live Linux distribution added, can direct me to a copy to try.
YUMI exFAT Changelog
:
The following log outlines recent changes made to software.
10/18/2023 YUMI-exFAT-1.0.2.4: 1.0.96 bootloader. Implemented conditional detection features to allow prepared drives to be displayed while running from WINE in Linux.
9/18/2023 1.0.2.3: Corrected an issue in GetDriveType for detection of removable and fixed disks. Added Vanilla dPup to the supported distros list.
9/13/23 1.0.2.2: The tool now enumerates through each drive letter and then accumulates and combines volumes/partitions that are on the same physical disk number. Fixed a few more bugs with menu options related to the handing of selections. Changed drive detection methods. Both fixed and removable disks with the exception of those containing a Windows\system32 directory are displayed by default. Added redetect disks checkbox option.
9/7/23 1.0.2.1: 1.0.95 bootloader. Corrected ISO masking for Windows X-Lite. Addressed various bugs in the handing of message boxes and menu selections. Added a new feature that automatically checks for version update at runtime.
8/4/23 1.0.2.0: 1.0.94 bootloader. Fix broken persistence feature in Zorin OS and other distributions.
7/12/23 1.0.1.9: 1.0.93 bootloader and implement upstream Ventoy bug fixes. Increase max persistence file creation to 40GB per distribution.
5/8/23 1.0.1.8a: Updated Lubuntu home and download pages. Added a WIPE Drive link. Fixed to show selected drive during subsequent installs when show all drives was previously ticked. Temporarily switch from YUMI2USB back to using Ventoy2Disk via passthrough commands for core bootloader creation.
5/8/23 1.0.1.8: Fix to support Kali Linux USB Persistence, and Linux Mint Debian Edition Persistence. Added a check for new version option.
5/3/23 1.0.1.7: Revert back to using YUMI2USB and include core files due to download issues a few users were having when trying to fetch while running behind a proxy.
4/20/23 1.0.1.6a: Check for and download and use the latest Bootloader files.
3/30/23 1.0.1.6: Updated to use Ventoy 1.0.90 Bootloader files. Check for YUMI theme and configuration during install/update.
3/15/23 1.0.1.5: Update to use VTOYCLI options and fetch latest Ventoy Bootloader files from GitHub.
3/12/23 1.0.1.4a: Edit Phoenix OS Lite + Windows X-Lite website and build links.
3/9/23 1.0.1.4: Implement upstream bootloader changes from ventoy 1.0.89. Improve and add control parameters to json file.
2/28/23 1.0.1.3: Added Proxmox ISO support.
2/4/23 -1.0.1.2: Repair broken PhoenixLite OS entry.
2/4/23 1.0.1.1: Add support for newer Memtest86 and Memtest86+ versions.
1/26/23 1.0.1.0: Update to support ClearLinux Desktop and Server ISOs. Implement upstream changes from Ventoy 1.0.88. Include theme files on first partition.
How to Create a MultiBoot USB Flash Drive (Windows)
Run

*

YUMI following the onscreen instructions.
Then, Run the tool again to Add More ISOs/Distributions to your Drive.
Restart your PC. But be sure to set your Boot Menu to boot from USB.
Select a distribution to launch. Then, boot and enjoy!
Booting from a USB Flash Drive:
Here are the steps to USB Boot into any installed Operating System or Tool that you've previously added to your drive.
Accessing BIOS or UEFI Settings – Restart your computer and proceed to access your BIOS or UEFI. This is usually done by pressing F2, F12, Delete, or the Esc key. Refer to your computer or motherboard manual to find the correct key for your system.
Change Boot Order – In the BIOS/UEFI settings, navigate to the "Boot" or "Boot Order" section. Change the boot order so that the USB drive is the first boot option. This allows the computer to check the USB drive for bootable media before trying the internal storage.
Save Changes and Exit – Save the changes you made to the boot order and exit the BIOS/UEFI settings. This will restart your computer.
Finally, Select an OS to Boot – Your computer should now be booting from the USB drive into a Boot Menu. Simply select the Operating System or Tool you wish to boot from and then press enter. Now follow any additional prompts to make selections for custom booting.
That's really all there is to it. If all went well, then you should be booting your favorite distributions from your custom MultiBoot USB drive!
Creating a MultiBoot Bootable USB Flash Drive (Linux):
The following instructions were performed from a running Ubuntu host. These steps assume that you have gzip and WINE packages installed on your system. If not, you'll need to install them both before continuing.
Open a terminal. Ctrl+Alt+T
Next, cd to your desktop:

cd Desktop

Download YUMI4Linux gzipped tarball using wget:

wget https://yumiusb.com/downloads/YUMI/YUMI4Linux.tar.gz

Extract the archive:
(Note: you may be able to just double click the file to extract.)

tar xzvf YUMI4Linux.tar.gz

Switch to the extracted folder:

cd YUMI4Linux

Set permissions + run the YUMI Linux shell script:

chmod +x ./YUMI.sh && ./YUMI.sh
When the script finishes, it will launch the included YUMI-exFAT-#.exe executable file from WINE, enabling you to add bootable ISOs and create persistence files. Note that this tool will only display drives that have already been prepared with YUMI exFAT.
Distributions and tools can be added or removed at any time on prepared drives with this stand alone .exe.
To run the tool at a later time, simply execute the file using WINE as follows:
wine YUMI-exFAT*
Note: You can also copy the YUMI-exFAT-#.exe to another location and run it elsewhere, if you'd like.
How a YUMI Multisystem Bootable USB Works
YUMI (Your Universal Multiboot Installer) enables each user to create their own custom Multiboot UFD containing only the distributions they want. Presented in the order by which they are installed. A new distribution can also be added to the bootable device each time the tool is run.
If you run the tool from the same location you store ISO files, then they should be auto detected, eliminating the need to browse for each ISO.
Other Notes: If MultibootISOs or the Legacy variant was previously used, you must reformat the drive, and start over. The exFAT variant is not compatible with the older Multiboot ISO tools.
USB Bootable ISO files
Here are some Bootable Live Linux Distros, Portable Operating Systems, Windows Installers, and tools that you can install and boot from USB. Keep in mind that although this list is somewhat comprehensive, it is by no means all inclusive.
USB Debian Live
Debian Live
The Debian Installer
USB Fedora
Bootable USB Linux Mint (with persistence)
Linux Mint
Debian Edition
USB OpenSUSE
USB Puppy Linux
DPup Exprimo
Fatdog64
Lucid Puppy Linux
Precise Puppy Linux
Racy Puppy Linux
Slacko Puppy
Wary Puppy Linux
Bootable USB Ubuntu (with persistence)
Ubuntu
Ubuntu Gnome
Ubuntu Server Installer
Ubuntu Secure Remix
Ubuntu Studio
Edubuntu
Kubuntu
Lubuntu
Xubuntu
Backbox
Other Distros Alphabetical
Android-x86
Antergos
AntiX
Archlinux
Bodhi
Bunsenlabs/Crunchbang
CAELinux (Computer Aided Engineering)
CentOS Live
ChaletOS
Clear Linux
Damn Small Linux (DSL)
Fuduntu
gpxe (Net Bootable Distros)
KNOPPIX
KXStudio
Mandriva
Netrunner
OSGeo Live
PCLinuxOS
Peppermint
Peach OSI Linux
Pear Linux
Pinguy OS
Porteus
PureOS
SalineOS
Scientific Linux CERN
Semplice Linux
SLAX (Tiny Slackware Based Distro)
Slitaz (Another Tiny Distro)
Sparky Linux
SolydX
Sugar on a Stick
System Rescue CD
Tails (Anonymous Browsing)
Liberte (Anonymous Browsing)
Terralinux
TinyCore (A Tiny Linux Distribution)
Ultimate Edition 3
XBMCbuntu
Zorin OS Core
USB NetBook Distributions
EasyPeasy (NetBook Distro)
Jolicloud (NetBook Distro)
Ubuntu Netbook Remix
xPUD (Netbook Distro)
USB Bootable Virtual Machines
ProxMox (Virtual Machine Environment) VME
USB Antivirus Tools
Acronis Antimalware CD
AOSS (Malware Scanner) system\stage1
AVG Rescue CD (Antivirus Scanner)
AVIRA AntiVir Rescue CD (Virus Scanner)
Bitdefender Rescue Disk (Antivirus Scanner)
Comodo Rescue Disk (Antivirus Scanner)
Dr.Web Live CD ; does install to root
F-Secure Rescue CD
GDATA Rescue CD
Kaspersky Rescue Disk (Antivirus Scanner)
Panda SafeCD
Windows Defender Offline
USB System Tools
Acronis True Image
BackBox (Penetration Testing)
BackTrack5 (Penetration Testing)
Boot Repair Disk
Clonezilla (Backup + Clone Tool) – with Persistence
DBAN (Hard Drive Nuker)
Deft (Forensics)
DRBL (Diskless Remote Boot in Linux)
EASEUS Disk Copy (Disk Cloning Tool)

FreeDOS (Balder img)

GParted (Partition Tools)
GRML (system rescue)
HDT (Hardware Detection Tool)
Kali (Penetration Testing) – with Persistence
Memtest86+ (Memory Testing Tool)
Matriux (Penetration Testing)
Offline NT Password & Registry Editor
Ophcrack (Password Finder)
Parted Magic (Partition Tools)
PING (Partimg Is Not Ghost)
Partition Wizard (Partition Tools)
Rescatux
Redo Backup And Recovery (Recovery Tools)
Rip Linux (Recovery Distro)
Trinity Rescue Kit
Ultimate Boot CD (Diagnostics Tools)
Web Converger (Web Kiosk)
WifiSlax
Bootable USB Windows 11, 10, 8, 7, XP and Other OS/Tools
Linux Live Tools for OCZ
Linux CNC
Hiren's Boot CD
Falcon 4 Boot CD
Hiren's Boot PE
Sergei strelec WinPE
Other WinPE
Kon-Boot Floppy Image
Windows 11, 10, 8, 7, Installer. (YUMI can be used in place of Microsoft's "Create Media Tool" for Windows 11, 10)
Windows XP Installer
Windows To Go
Boot and Run Windows 11 from VHD on USB
The option to Install, boot, and run Windows from VHDx on USB option is available via the exFAT variant. Enabling you to experiment with running Windows 11 or 10 portably.
Phoenix LiteOS – Put Windows 10 or 11 on USB
Unlisted USB Bootable ISOs
Try an Unlisted ISO (SYSLINUX)
(GRUB)
(GRUB Run from RAM)
Troubleshooting, Known Issues, Bugs
As per the official documentation, Debian requires the persistent block file and label to be named persistence (which was previously live-rw), and it must hold a persistence.conf file containing / Union.
* This has been fixed and currently works for some Debian based distributions such as KALI Linux with persistence. However, the persistence feature still remains broken with the latest official Debian distribution. I'm wondering if Debian will only detect persistent partitions and no longer supports persistent block files?
ACPI=OFF ~ disable ACPI (Advanced Configuration and Power Interface)
When booting Linux distributions from some laptops such as the Lenovo Yoga with a touchscreen, the acpi=off boot parameter might be necessary in order to successfully boot up.
My PC wont Boot from flash drive, but BIOS supports USB boot
Some flash drives ship formatted without a partition, but the boot methods we're using require a USB drive to contain a partition with a MBR (Master Boot Record). To ensure compatibility, you'll need to allow the installer to prepare your device. Make sure you've backed up any data you wish to keep before preparing the drive.
TAILS not booting; TAILS – If your Multiboot Bootable USB is detected as a "fixed" hard drive and not a "removable" disk, (a few of the larger AXE and SanDisk drives have the removable bit flipped this way), in which case you need to remove any occurrence of the boot parameter "live-media=removable".
No Floppy Drive; If you don't have a floppy drive and get fd0 errors while booting, simply add floppy.allowed_drive_mask=0 to the append line for the troubled entry. Although the best fix is to simply disable floppy in BIOS.
Persistently Saving Changes; A casper-rw persistence feature can be used for most Ubuntu based distributions. Yes, you can also have multiple persistent distributions, as each distro utilizes its own casper-rw or live-rw block file.
Adding Ophcrack Tables; In order to load Ophcrack tables, the tables folder might need to exist at the root directory of the USB device; (example F:\tables\vista_free). You can get Ophcrack Tables from the Official Ophcrack site. Once downloaded, simply unzip them to the root of your USB. Because you're using this method, you can have your Windows 11, 10, 7, XP tables all working together on the same device.
Running YUMI on Linux; YUMI can be run from Linux using WINE with limited functionality. The USB drive partitioning and format features do not work due to WINE disallowing the use of functions that require elevated administration privileges. However, you should still be able to use the tool in Linux with WINE to add and remove distributions.